2019-03-01 21:00:00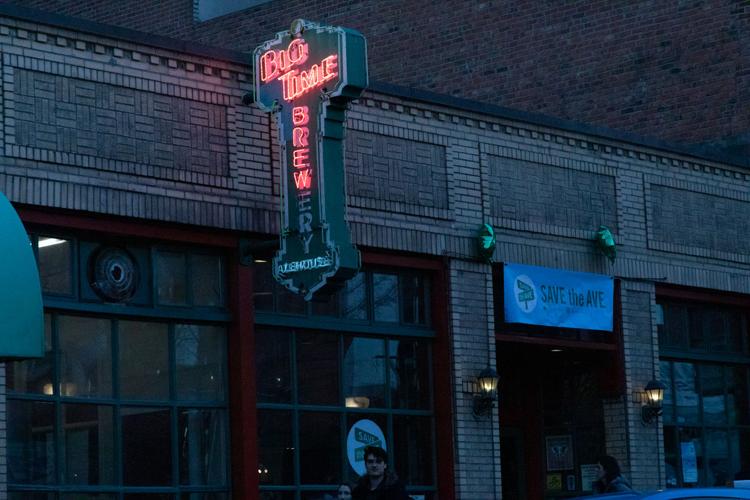 Community members rallied Tuesday night in support of a petition that hopes to draw attention to recent up-zoning in the U-District.
Hosted by the U District Small Business Association at Big Time Brewery, the event asked for signatures that would back an amendment to the Seattle City Council's most recent ordinance to increase building height in the U-District.
Proponents are fighting to keep as many small businesses in the area as possible.
The Council previously passed legislation in 2017 that allows 20- to 30-story buildings to be built in the U-District area. The Ave, which was originally excluded, will no longer be exempt between Northeast 41st and 52nd streets.
Up-zoning comes on the heels of a new U-District Mobility Plan, which was finalized in November by many of the same community members who are a part of the small business association, in conjunction with Sound Transit and King County Metro.
With the new U-District Link Light Rail Station opening in 2021, research suggests population density will increase. As public transit slowly takes over Seattle's transportation landscape, up-zoning is a response to the increase in ridership, known as transit-oriented development. Busses will be re-routed and apartments added to make the the light rail more accessible.
"Anytime there is a development, the developers come in, they tear down the building, they build it up, and those small businesses are gone," Big Time Brewing owner Rick McLaughlin said. "Most of the affordable housing is gone."
Businesses and residents have long faced concerns that growth will come with displacement and higher rents that tenants cannot afford to pay. Displacement is happening in South Seattle as businesses are starting to be pushed out.
"Because there's so much going on in the neighborhood I think a lot of people have been priced or pushed out because of the new development and I think that's going to continue to happen," Cafe Allegro owner Chris Peterson said.
According to a survey by Save the Ave, 90 percent of businesses rent their spaces and 85 percent are owner-operated.
"There has been a desire for higher rents and a more corporate style on The Ave and the small businesses that have been here for years really want to preserve the unique identities that have made this neighborhood special," Bulldog News owner Doug Campbell said.
The idea is not to discourage bigger chains from coming, but to bring them in a way that considers existing businesses. Both Campbell and Peterson cited a need for the new Target which is expected to open on the Ave between 45th and 47th avenues.
"I feel like property owners for a long time have tried to get chain stores … on the Ave," Campbell said.
Both acknowledged a difference between mass up-zoning and strategically adding larger businesses that benefit the neighborhood.
City councilmembers, most notably Kshama Sawant, has been critical of the UW's plans to expand which piggyback on its neighboring community. She expressed a need for more affordable housing that accommodates employees that would otherwise commute to work.
The legislation for UW's Campus Master Plan passed all the way through city council and the UW Board of Regents finalized it this February, highlighting that a need for growth usually overshadows other concerns.
"At some point you realize that small businesses provide community and culture for a neighborhood," Mclaughlin said. "You want to stand up for them."
Reach reporter Samantha Bushman at news@dailyuw.com Twitter: @sammi_bushman
Like what you're reading? Support high-quality student journalism by donating here.
https://i1.wp.com/viperpay.com/wp-content/uploads/2019/03/5c7899e2d1ffa.image.jpg?fit=945%2C630
630
945
Steve
http://viperpay.com/wp-content/uploads/2019/01/ViperPay-Business-Merchant-Solutions-Utah.png
Steve
2019-03-01 21:59:34
2019-03-01 21:59:34
#Savetheave Campaign wants community support to help small businesses fight overdevelopment | News