2019-03-09 23:37:30


Democratic presidential candidate and California Sen. Kamala Harris received an enthusiastic welcome at the last stop of her third trip to South Carolina on Saturday.
Harris spoke to a crowd of at least 200 inside the Charleston Area Convention Center where entrepreneurs, community organizations and government agencies gathered for the Charleston Black Expo, an economic empowerment event that is in its 20th year.
Audience members took in her policy platform, which ranged from how to lift up small business owners to fixing the education system, with applause and cheers. She received a standing ovation at the end of the roughly 30-minute talk, which was moderated by Geno Jones, a local radio personality, and Dominique Milton, president of the Carolinas-Virginia Minority Supplier Development Council.
Most of the discussion centered on economics.
Responding to a question about how she would reform the country's public education system, Harris said she supports increasing access to affordable childcare, establishing universal pre-kindergarten programs, making community college attendance free and ensuring college students can graduate without crushing debt.
Having a robust, well-funded, accessible public education system is essential if the United States is going to be competitive in an increasingly interconnected world, she said.
"When people say how are you going to pay for it, all those small business owners out there, they know," Harris said. "They don't look at things as how I'm going to pay for it when they're talking about investing in their business." She added "Investing in the education of our young people will reap us a huge return on that investment."
In response to other questions, the senator laid out key policies of her platform — restoring the ability of agencies like the Consumer Financial Protection Bureau to properly protect consumers from fraud, supporting small business through capital infusions provided by the federal Department of Commerce and overhauling the healthcare system with medicare for all, among other points.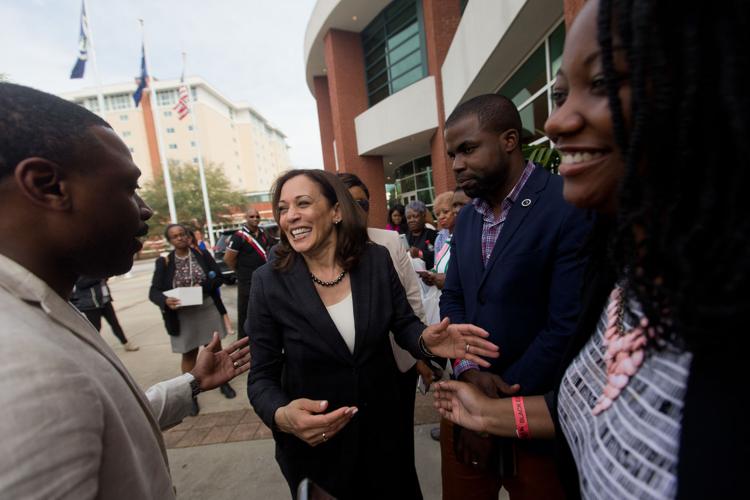 For residents like Devetta Hughes and Kim Greene, both 55, and residents of Summerville and Charleston, respectively, Harris is a candidate they can believe in.
"These are desperate times for us," Hughes said. "We are looking for someone who is going to turn things around for us. … We believe she is the answer."
Greene said she believes Harris' platform is resonating with middle class Americans, especially by focusing on issues, like education and economic empowerment, that matter to many.
Before heading to the Lowcountry on Saturday, Harris held two public campaign events Friday in the Pee Dee, speaking at a jam-packed Big Mike's Soul Food in Myrtle Beach and a rural community center in Hemingway. In between, she stopped at Bethel AME church in Conway to talk to local clergy and community leaders.
Interspersed with common questions about health care and education, one attendee in Myrtle Beach asked about the 47-month sentence handed down to former Trump campaign manager Paul Manafort, a judgment that came as a surprise to some who expected a harsher punishment.
Noting her background as California attorney general and a district attorney, Harris said the sentence demonstrated the criminal justice system "is broken in America," drawing cheers from the crowd.
She compared the sentence for Manafort's fraud, which she described as "crimes that should rightly be thought of as against the very being of who we are and what is in our collective best interest," to longer sentences for drug possession or other nonviolent offenses.
"The sentence does not match the crime," Harris said, adding that it shows "absolute unfairness" between how white collar crimes are treated compared to others. "This is what I say: people commit white collar crimes, they should be prepared to bring their toothbrush and spend as much time behind bars as anyone else."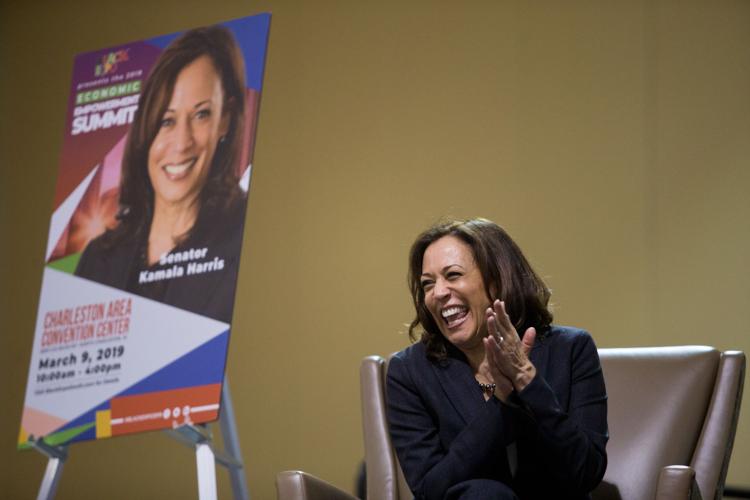 Everywhere Harris goes in South Carolina, several audience members often show up in the pink and green of Alpha Kappa Alpha, the sorority Harris pledged at Howard University that has a significant presence in the state's black community.
One of the sisters at the Hemingway event, Adrian Pressley, said Harris' AKA ties would give her an early boost among some Democratic primary voters in the state. But Pressley, a local middle school teacher, also said Harris' focus on education and identity as a black woman candidate mattered to her, too.
"As an educator, I feel like she understands what we're going through," Pressley said. "I felt the sincerity of it, and especially to hear it coming from a woman is exciting."
Several Democrats, like Tracy Denny of Murrells Inlet, said they first started learning more about Harris from congressional hearings, particularly her probing of Supreme Court nominee Brett Kavanaugh.
"She was so good and strong, and that's what we need, somebody who is going to stand up for us," said Denny, 54.
https://i1.wp.com/viperpay.com/wp-content/uploads/2019/03/5c841a227ac11.image.jpg?fit=902%2C630&ssl=1
630
902
Steve
http://viperpay.com/wp-content/uploads/2019/01/ViperPay-Business-Merchant-Solutions-Utah.png
Steve
2019-03-10 14:12:03
2019-03-10 14:12:03
Kamala Harris makes third SC trip, receives enthusiastic welcome | News